Film and Frottage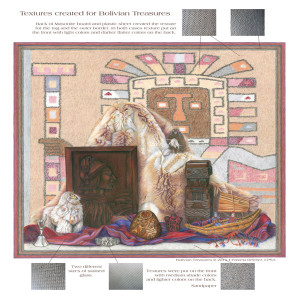 Of the many things that can be done on film, one of the most fun is rubbings (frottage). I discovered this when trying to simulate the impression patterns I had been making with a variety of tools on paper. Obviously denting the film is not possible, so I thought perhaps reversing the process might. No kidding! After a trial with one of my dad's rasps, I literally ran around the house looking for interesting items with surface texture. I tried three dimensional things like shells and cut glass vases. While these are manageable on small pieces of film, I quickly learned that something flat works best especially when working on a larger sheet. During this search process, my husband asked if I had tried sandpaper. I replied, of course not, thinking it would shed particles. When he asked me the third time, I fetched some and voila! It makes a great random pattern and doesn't shed at all.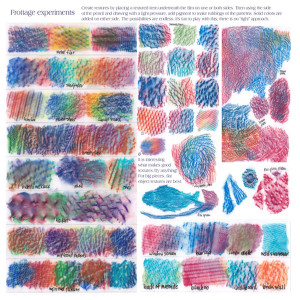 It surprises me what works and what doesn't. There are some surfaces I think will be great (like British coins), and they don't work at all. Some things appear to really contain no texture, but since not much is needed, they are perfect. My favorite items, besides all grits of sandpaper, include window screen, textured stained glass, sushi bamboo roller, the back of a particle board (Masonite), the black dotted plastic sheet found in the bottom of canvas shopping bags, textured matte boards, canvas board and corkboard. Engraved silver trays are excellent. While the pattern doesn't transfer as distinctly as it would onto a thin piece of paper, the effect is quite intriguing.
In order to assess what I have, I made a little reference chart.
Now the question was, what to DO with this, or is it just frivolity? I worked first on an abstract and used several items. I also use both the front and back sides of the film. Sometimes I put texture on both sides, but always put at least pigment on the opposite side.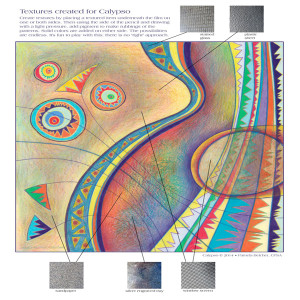 Next question: Can these be used in a realistic drawing to enhance the textures? Answer: yes! I employed several surfaces to help me get some interesting results in my drawing, Bolivian Treasures. This features items my husband's family picked up in La Paz when he was five, and ones we picked up on our recent visit there. It was a difficult but thrilling drawing to execute, and the frottage component definitely added to the finished appearance.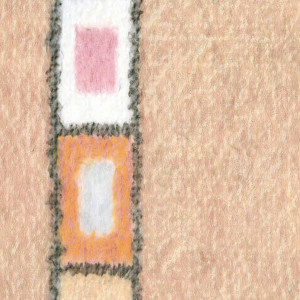 The back of the Masonite board worked spectacularly to simulate the woven rug. I don't know how I would have pulled that off without this frottage option.
All in all, you are limited by your imagination in what can be used and how. Go for it! It will enhance your experience tremendously!
By Pam Belcher, Artist