Framing Grafix Drafting Film
Framing & Presentation of My Paintings on Grafix Drafting Film
By Carole Silverstein
There are two methods I use to "frame" and present my paintings on Grafix Drafting Film or Matte Dura-Lar.
I have been painting on Grafix Drafting Film (4 or 5 mil double sided matte) with Acrylic Inks since 1997 when I started to install & layer overlapping rectangles of the translucent film directly onto a white wall. This was fine in the studio but when it came time to show the work in galleries, I needed a better solution. That's when a professional framer suggested that I use an archival double-sided transparent tape (that's also reversible). For many years – due to loving the ephemeral quality and translucency of the drafting film (and Dura-Lar) – that is how I presented my pieces. Using an archival clear adhesive Double-Sided Film Tape #415, ¼" size, I attached a few small pieces intermittently along the top and at the bottom corners, or as needed. I also always pinned them at the top two corners for security. I used white map tack pins to be as unobtrusive and elegant as possible. I don't recommend ever adhering to the wall without pins. The painting can potentially fall and get damaged (dented permanently).
As I began selling my paintings to collectors, the issue of care, handling & stewardship came up. When my work was smaller, I constructed a special portfolio box for the paintings to live in, plus hanging instructions, for when on display. But for most collectors they wanted them framed. An early collector and supporter of mine had them professionally, traditionally framed floating under plexiglass with a spacer (so as not to touch the surface). The #415 tape was also used. This solution was ok but not ideal, as the surfaces of my paintings have iridescent and reflective parts which get lost behind glass. I also didn't like them trapped in a traditional frame, which weighed down and contained the piece, losing their special quality.
Happily, I finally found an excellent solution that I love. I was recommended to a company called Finishing Concepts (https://www.finishingconcepts.biz/) in LA, where I live. They adhere large scale photographs onto different substrates (aluminum, dibond, plexi, etc.) with archival tapes for museums and galleries. I subsequently found that many high-end professional framers also do this type of work. After doing many small-scale sample tests with them, using various transparent archival tapes and different substrates, we came up with the solution. The framing company uses transparent archival tape to adhere my paintings on Grafix Drafting Film onto a custom-built white aluminum "frame" with no glaze and no covering like glass or plexiglass. The white aluminum is constructed like a canvas to keep it lightweight but structurally strong and is only 3/4 inch thick from the wall. It has a whole hidden cleat system integrated on the back. When it hangs on the wall it maintains that lovely floating quality but is substantial and protected. It is a permanent adherence. That was scary at first, given that this is a one-of-a-kind painting, as opposed to a photograph that can be reprinted if needed. But there's never been a problem (they are very reputable), and I do love that the work is protected for longevity.
This solution is not in-expensive; however, it is an investment. It also makes it easier to sell and is better protected.
Some additional information and options with these framing solutions and exhibiting your work on Grafix Matte films:
I had a solo show in early 2020 where I did not frame them. I had one small, framed work near the entrance to the gallery as an example for potential collectors. The rest I taped and pinned in the earlier method. This was an economical decision. A work or two did sell, and the new collectors paid for the frame as part of the price of the work. They got framed & delivered to the collectors once the show came down.
In my most recent solo show from November-December 2021, "she wears her potency as ornaments (the garden)" at Nancy Toomey Fine Art, Minnesota Street Projects, San Francisco – everything was framed in the new manner. Here is a link to the show, with a 1 minute video where you can see how they look, https://nancytoomeyfineart.com/artists-exhibitions/carole-silverstein-she-wears-her-potency-as-ornaments-the-garden/#
Other helpful hints:
Sometimes in my paintings on drafting film I leave unpainted areas, which I find very beautiful. With the custom frames, using transparent archival tape, they look great.
If you like to leave unpainted areas, as I do, and are using the #415 tape to adhere to a wall (or in a traditional frame), keep in mind the tape is almost, but not completely invisible. It doesn't show at all under painted areas, but if it's placed where the film is left untouched you may see a little bit.
When showing your work, I recommend to first tape the drafting film to the wall with archival Artists Tape, then carefully replace those spots with the #415 tape. A note about removing the #415 tape: the longer it adheres to a surface the stronger the bond becomes. I've had work on display in galleries for 2 months (or up in my studio for much longer) and it's been fine to remove although it does take careful technique & patience, but that's in my nature. One of my first clients from 15 years ago tried to have the earlier, traditionally framed paintings transferred to the newer frame treatment. It turns out it wasn't possible without damaging the work due to the strong bond that happened over time with the #415 tape. Apparently 15 years of adherence, is too long!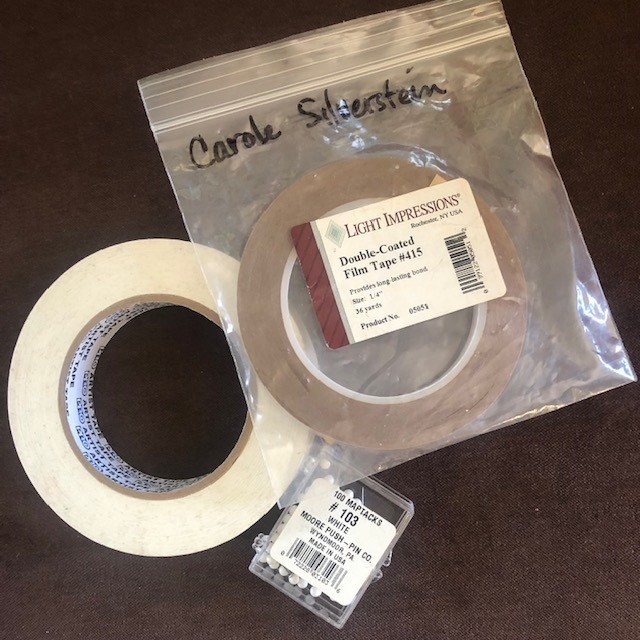 See more of Carole's work on Grafix materials here, http://www.carolesilverstein.com/